D
ay One passed along and Py now is happy and fueled up again and as the house has WiFi now this blog can be updated again -- as yesterday
Today the group got up for breakfast around 6am, but it turned into a long almost brunch like session as it started raining -- watching the radar two heavy rain systems needed to pass before they decided to get out on the road.
At about 10:30 it cleared up and the sun came out. They went out for a 70 mile ride with
two nice gaps
.
Little refill after the first gap and downhill run:
The second gap turned out to be very nice and long, starting at about 170m they got up to 750m in one long climb with up to about 17..18% grade at max at thevery end, what was tough and just doable for Py with is 12-27 and regular crank. Also they got soem company by some local and some riders from Montreal.
A young girl rider did very well all the way up and stayed close to Py.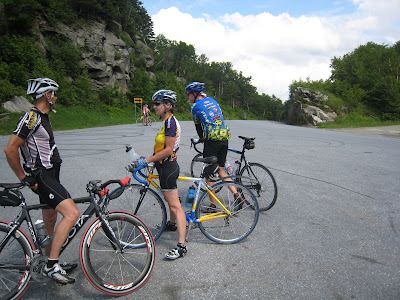 Here is the 2nd gap:
View Larger Map
The following downhill was fast.
View Larger Map